Just a month ago, Facebook announced at their F8 conference sweeping changes to Facebook, their new Open Graph interface and a new wave of 75 marketing partnerships including CNN, Yelp, Pandora and iMDB.  Just yesterday, Facebook's lobbyist was in front of the US Congress backpedaling from the huge wave of privacy concerns sweeping the world. So, what's the big deal?
Phase one of Facebook's strategy for world domination: complete. Facebook announced that more than 50,000 websites have integrated Facebook's new social plugins in just one week. The plugins are a core component of the company's new Open Graph initiative.

~ Mashable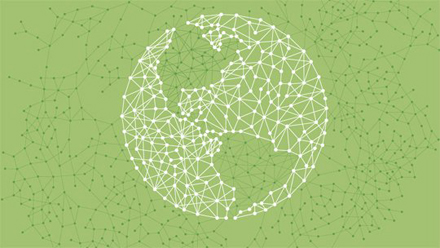 Essentially, Facebook opened their database to their partners. When you approve individual Facebook applications it 'warns' you their partners will be able to read your list of friends, access you wall, photos and other content. All so you can send a friend an iHeart or see the Photo of the Day. But, how much do we know about the businesses getting that data, and how they are using it besides iHearts?  Based on the number of Facebook applications that are nothing but a virus, Facebook's quality control and oversight of their partners must be minimal.
None of those issues have stopped the rapid growth of Facebook's Open Graph, however. Last Wednesday, Facebook launched with 75 partners. Now there are more than 50,000 websites on board — that's nearly 300 websites adding Facebook social plugins per hour. Clearly Facebook's 425+ million users have enticed website owners to jump on the Open Graph bandwagon

~ Mashable
What has truly changed the most:
First, Facebook decided to make the default privacy setting for the Open Graph:  Sure, you can have my data!  So, any of those 50,000 web sites that you visit can

pull your personal data and store it on their system

. Remember sharing your phone number and email with you personal friends on Facebook? Or what you eat, where you work and your travel plans.  Getting clearer?
Next, Facebook decided to put in 'granular' controls… what's that?
The New York Times noted that if you want to protect your privacy on the social networking site, you'll have to navigate through 50 settings with more than 170 options. Why? Well, Facebook says that it wants to give its users fine-grained control of what they share and what they keep private. That's admirable, but in the process the company seems to have lost sight of a different imperative: keeping it simple. How many users are going to jump through that many hoops?
But, the real oxymoron was believing that the data that 425 MILLION users willingly entered into Facebook is
actually kept private:
It appears that it's only shared with the friends you approve. Plus the applications run by unknown companies you approve. Plus the 50,000 web sites and growing.
A coalition of privacy groups have taken the issue to Congress as they see Facebook's new approach breaking FTC laws.
So, how does Facebook's CEO Mark Zuckerberg feel about your privacy?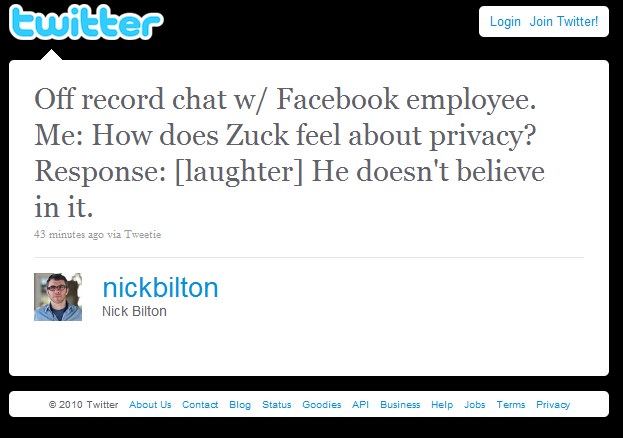 Click here to read that article. Facebook is a very cool technology, a great way to stay in touch with your family and friends, and a marketers dream… but, think about what data you 'share' with Facebook. And who they are sharing it with as well.