Posts Tagged 'free software'
Three CHEERS for new technical toys! Here at iCreaTech we're not just builders of all things IT, designers of web creations, schemers of traffic redirection, were also photographers; which really means we get to play with LOTS of new toys! When shopping toys, like the average "techie", I am always looking for the latest and greatest find.  It's always great if it's also user friendly and most importantly the best regarding bang for my buck. Well, I've hit the jackpot with Photomatix Pro. All of this raving about new technical toys is really just an excuse to tell you about my newest photographic love, HDR (High Dynamic Range) photography and how I'm able to make an almost drab photograph into an eye catching creation. Although this isn't my first try with HDR, I've never been able to achieve the amazing results that Photomatrix Pro can deliver. For the optimal HDR experience, a photograph with extreme light levels can really take advantate of Photomatrix Pro's ability to work it's magic. Try making your own HDR creation with a quick download of the trial version of Photomatrix Pro for either Windows or Mac. Keep in mind that although you can use HDR pictures with .jpg files, RAW format files can give greater flexibility in processing.
1) Shoot your photos:
When you setup your camera to shoot for HDR,  set your camera in aperture priority mode and use a tripod to avoid any discrepancy in the multiple photos you'll merge to make your HDR. Although you can use as many or as few photos as you like, I tend to use 3 photos most often. Turn on your Autobracketing. For 3 pics in autobracket, set it up at -2, 0, +2.
2) Import your photos:
Once I've taken my photos and I'm ready to bring them into Photomatrix Pro, I import them to my PC with Adobe Lightroom 3. Below you can see then photos of the Alamo that I'll merge to create my HDR photograph.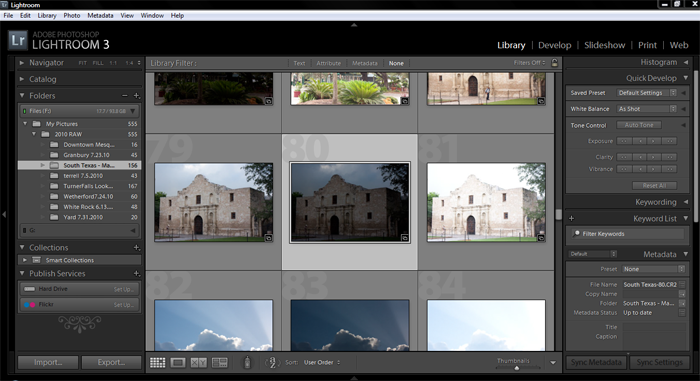 3) Make your HDR magic!
Open Photomatrix and prepare to work magic on your photos!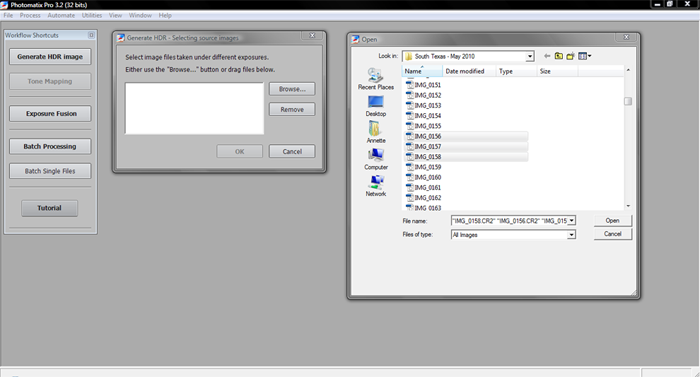 Once you've opened Photomatrix and clicked the "Generate HDR Image" button, the 'Selecting Source Images' box opens. Click "browse" to choose the photos you want to import. You need to import all photos as once. To do this, click one file, hold down your control key on a PC or command key on a mac, and continue by clicking each file you want to be imported. Once all files are selected, click open and Photomatrix will align and merge the files. NOW the MAGIC begins:) Strength – Keep it at 100%. Color Saturation – Remember, HDR is about light, not about over-saturation! Every photo is different.  You don't want a photo that makes you think you are hallucinating; you just want the color to POP! Luminosity – There will be less contrast in your photo, when you slide to the right. Just use your eye and do what pleases you. Microcontrast – Creates fluctuations in color, on a small scale and also helps with the graininess or noise. Smoothing – This is where the HDR effect is applied. Psychodelic go left, melodic go right. White Point & Black Point – The idea here is to have the right amount of light, if your histogram is to far to the left or right you are loosing or adding too much light. Use this to move your bell curve of the histogram to the center.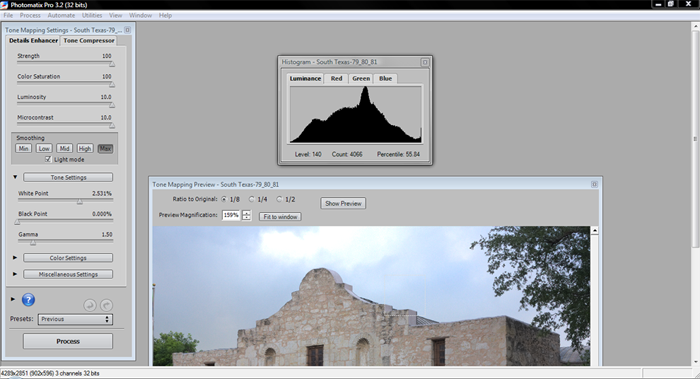 4) Process your HDR results:
Once you are done playing with all of the sliders, you can click the "Process" button. Tada done with HDR! You can also make additional changes to photograph in Photoshop or Lightroom if you feel it needs any cleanup. For a Quick and Easy Magic Trick, Photomatrix Pro gets a thumbs up at iCreaTech.
5) Brag it up to your friends!
You know you want to impress people with your new mad HDR skills!  Go for it.  Check out my more dramatic High Dynamic Alamo below! Now go try it for yourself!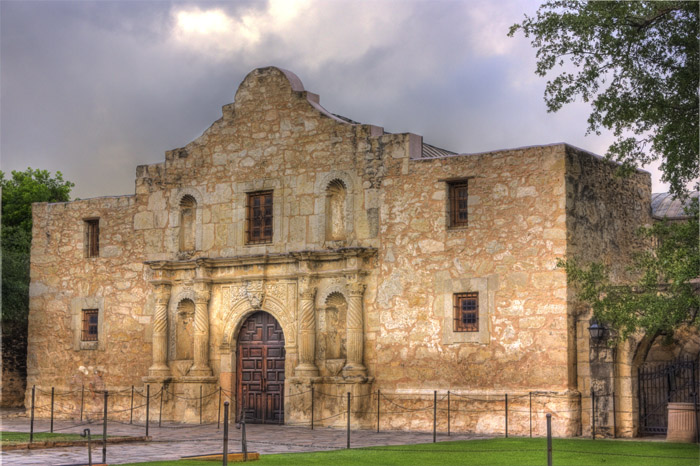 Just a month ago, Facebook announced at their F8 conference sweeping changes to Facebook, their new Open Graph interface and a new wave of 75 marketing partnerships including CNN, Yelp, Pandora and iMDB.  Just yesterday, Facebook's lobbyist was in front of the US Congress backpedaling from the huge wave of privacy concerns sweeping the world. So, what's the big deal?
Phase one of Facebook's strategy for world domination: complete. Facebook announced that more than 50,000 websites have integrated Facebook's new social plugins in just one week. The plugins are a core component of the company's new Open Graph initiative.

~ Mashable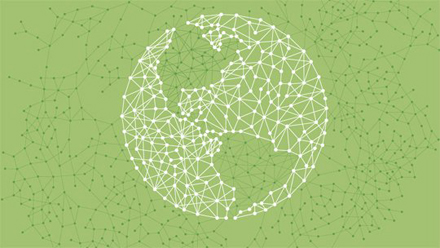 Essentially, Facebook opened their database to their partners. When you approve individual Facebook applications it 'warns' you their partners will be able to read your list of friends, access you wall, photos and other content. All so you can send a friend an iHeart or see the Photo of the Day. But, how much do we know about the businesses getting that data, and how they are using it besides iHearts?  Based on the number of Facebook applications that are nothing but a virus, Facebook's quality control and oversight of their partners must be minimal.
None of those issues have stopped the rapid growth of Facebook's Open Graph, however. Last Wednesday, Facebook launched with 75 partners. Now there are more than 50,000 websites on board — that's nearly 300 websites adding Facebook social plugins per hour. Clearly Facebook's 425+ million users have enticed website owners to jump on the Open Graph bandwagon

~ Mashable
What has truly changed the most:
First, Facebook decided to make the default privacy setting for the Open Graph:  Sure, you can have my data!  So, any of those 50,000 web sites that you visit can

pull your personal data and store it on their system

. Remember sharing your phone number and email with you personal friends on Facebook? Or what you eat, where you work and your travel plans.  Getting clearer?
Next, Facebook decided to put in 'granular' controls… what's that?
The New York Times noted that if you want to protect your privacy on the social networking site, you'll have to navigate through 50 settings with more than 170 options. Why? Well, Facebook says that it wants to give its users fine-grained control of what they share and what they keep private. That's admirable, but in the process the company seems to have lost sight of a different imperative: keeping it simple. How many users are going to jump through that many hoops?
But, the real oxymoron was believing that the data that 425 MILLION users willingly entered into Facebook is
actually kept private:
It appears that it's only shared with the friends you approve. Plus the applications run by unknown companies you approve. Plus the 50,000 web sites and growing.
A coalition of privacy groups have taken the issue to Congress as they see Facebook's new approach breaking FTC laws.
So, how does Facebook's CEO Mark Zuckerberg feel about your privacy?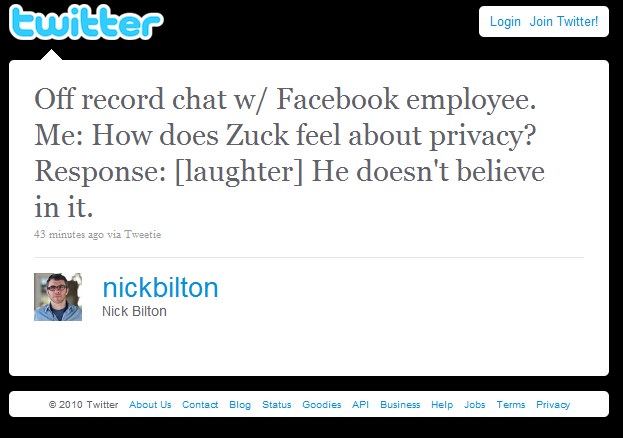 Click here to read that article. Facebook is a very cool technology, a great way to stay in touch with your family and friends, and a marketers dream… but, think about what data you 'share' with Facebook. And who they are sharing it with as well.
Not long ago, an article by Vitrue made a big splash in social media and internet marketing circles. The article was titled $3.60 Facebook Fan Valuation Is Just the Tip of the Iceberg and here are the key points from the article:
According to our research a Facebook Page with 1 million fans is worth a minimum of $3.6 million in earned media annually. Honestly that's just the tip of the iceberg as I'll explain.
How many impressions can a single wall post receive? To our surprise we learned the average was approximately 1:1 (0.96:1 to be exact).
We factored a very conservative $5 CPM - how much would you pay for highly targeted impressions?
1M impressions x 2 posts (per day) x 30 days = 60M impressions
60M impressions / 1000 x $5 CPM = $300,000 per month ($3.6M annually)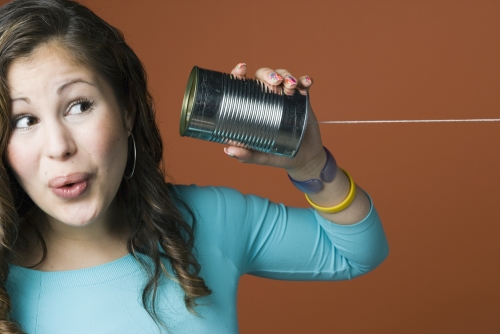 A few key points from the article and social media:
A community of social media and web 'friends' has real value.

Now is the time to engage or expand your community as earlier adopters always have an easier, lower cost entry.  But, it does save time and cost to know the best practices.
Vitrue's math shows that a business can save $3.60 per year per friend by posting to their social media community at little to no cost.
Of the business is well priced, the profits for those customers would be more than the $3.60 per year.  If not, you are may be paying too much when your marketing costs more than your profits.
The math: If the fans are valued @ $3.60 per year, that means with proper 'care' they will create an ongoing revenue steam of $3.60 year after year.  Being a finance major, the way you find the asset value from an income stream is to divide $3.60 by the current interest rate.  Using a 4% (current mortgage) rate shows a REAL value of $90 each.  Meaning if you invested $90 @ 4%, it would pay you $3.60 year after year.  So, the income may be $3.60, but the asset value is closer to $90!  If your cost of capital is closer to 8 or 10%, then the value to your firm per 'fan' is in the $36 to $45 range just on the cost savings.  Much less their profit.
The value of an impression is

much higher

when the viewer has opted to receive the information.  The $5 CPM (cost per million) is a quite conservative number since most web sites cover a pretty wide range of topics and interests.  While Amazon has an amazing number of visitors, could you imagine a more varied set of viewer interests?  How about CNN, YouTube or Google?
In traditional media you are also paying for the opportunity to make an impression with your message on tv, radio, newspaper or other media.  But, you never know how many people actually see those ads versus the internet's ability to measure both the number of times the ad is viewed, but more importantly how many times the ad is clicked on to get more info.
The real value of social media, web or any other media is the

number of impressions that turn into customers, and the profit from those sales.

That is much harder to measure than the baseline value Vitrue used.  Vitrue's math shows how much you would have to pay on a general web site for the same amount of 'viewers'.  However, when your community sees your message properly crafted on a site they opted into, it simply has a higher value than viewers on a general web site.
Just like web site names, social media names are being rapidly claimed.
The question is not are people talking about your brand or business on social media.  The question is: Are you Participating in the Conversation?
We can help you research, claim your social media and web names, and engage your community.  That is one of our core business values.
How can we help you reach your goals?