Archive for the 'Uncategorized' Category
British Petroleum is reeling from the focus, anger and costs of their latest oil disaster.  The term 'oil spill' doesn't begin to cover what BP has done in the Gulf of Mexico.   But, BP's marketing spin doctors have actually purchased the Google search term 'oil spill' to help control the damage they are seeing:
How bright is this?  BP's own ad running at the top of the Google 'oil spill' page dares to say "www.BP.com/OilSpillNews Info about the Gulf of Mexico Spill

Learn More about How BP is Helping.

"  Helping?  You caused it!
Nearly a half million Facebook users have joined 'Boycott BP' pages.  Also, Facebookers are commenting NOT to boycott BP stations, as that will only hurt the owners of the local outlet.
A 'fake' Twitter page is mocking BP's PR efforts, and a new BP logo is online with the letters BP replaced with WTF.
There is a new plugin for Google Chrome that blots out any mentions of BP with an oil stain!
BP's PR problems are severe. U.S. President Barack Obama said this morning that he's talking to experts so he can determine "whose ass to kick."

~ Mashable
The worst part is this is just the LATEST in BP'd horrific track record.  Jon Stewart has a great, satitical video that shows that BP had 760 willful, egregious safety violations in the US in the past 3 years based on OSHA's data!  In the video you see that Sunoco, Conoco, Citgo and Exxon had between 1 and 8 violations in the same 3 years.  We don't need to boycott BP stations.  The US government should BAN BP from any drilling or refining of oil in the US.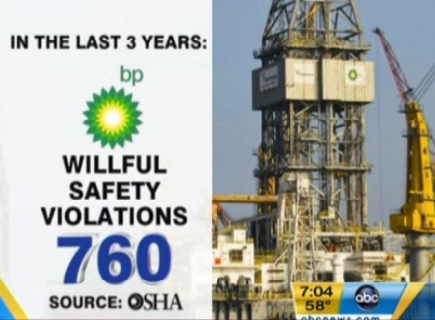 BP's created their own mess to deal with.  But, buying Google ads to link themselves to the term Oil Spill does not seem a good ad placement, does it?  That's like a handgun maker buying ads under suicides or homicides!