Archive for the 'music' Category
Almost everyone has a dream growing up…  Many of us dreamed to be a fireman, leader, athlete or rock star.  But few of us dare to truly follow our dreams.  Especially fully engage in them, and let nothing stop you.
Aaron Williams and The Hoodoo play an amazing blend of blues and rock.  Three of the coolest guys you'll ever meet, and proof that nice guys don't finish last!
Premiering here is "Livin' on Love", Aaron's anthem to their love of music, the great people they meet on the road, and those they love but need to leave behind to follow their dreams.  The love that gets them through the long hours traveling to the next gig. Including resting on the sidewalk when you've traveled all night and the hotel is overbooked. Aaron wrote Livin' on Love, and we had the privilege to create this video. We'd all love to hear what you think of this anthem, and your backstage, close up view of life on the road with AWATH!
The song is from "It Ain't Easy", a recent MAMA award winning CD.  AWATH recorded the video while traveling, and iCreaTech produced the video using photos from TJ.  While creating this, it was easy to connect with the theme of Livin on Love.  It was a labor of love to create!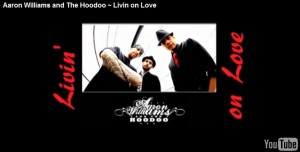 "Twenty years from now you will be more disappointed by the things you didn't do than by the ones you did do. So throw off the bowlines. Sail away from the safe harbor. Catch the trade winds in your sails. Explore. Dream. Discover."
~ Mark Twain
So, what are your dreams? Do you dare to follow them, and share them? We'd love to help!
Roger Linn is at it again! He invented the first drum machine to use digital samples in 1979. Now he's managed to cross a synthesizer with touch screen technology like the iPad! the new device is called a LinnStrument, and allows you to add timbre, vibrato and many other effects by varying your touch on the surface.
It's a creative new use of technology that's even musical! How cool is that?