Over the weekend, BP and the US government implimented 'Top Kill' to stop the flow of oil into the Gulf of Mexico.  But, it did not hold.  Have you wondered just how much oil really has been spilled?  Same here!  Apparently the brightest minds of our scientists are struggling to shut it off, find clean up solutions and even just estimate the amount spilled.
Initially, BP estimated 1,000 barrels (42,000 gallons) per day were spilling.  The US Government estimated 5,000 barrels a day (210,000 gallons).  The latest estimates posted by the Natural Resources Defense Council and Boston.com are in the 500,000 to 3,500,000 MILLION gallons per day.  Mulitply that by the 42 days SO FAR and you get an idea of the totals.
Enough oil to surpass the 1989 Exxon Valdez oil spill, which dumped 10.8 million gallons off the coast of Alaska in the worst spill in US history,three times over.

~ Boston.com
Based NRDC and Boston.com estimates, the BP spill is 3.6 to 6.4 TIMES larger than the Exxon Valdez already!
And, its increasing by 10% of the Valdez's spill EACH DAY.  You can see the real damage in more photos like this one of a young heron dying on an oil covered estuary: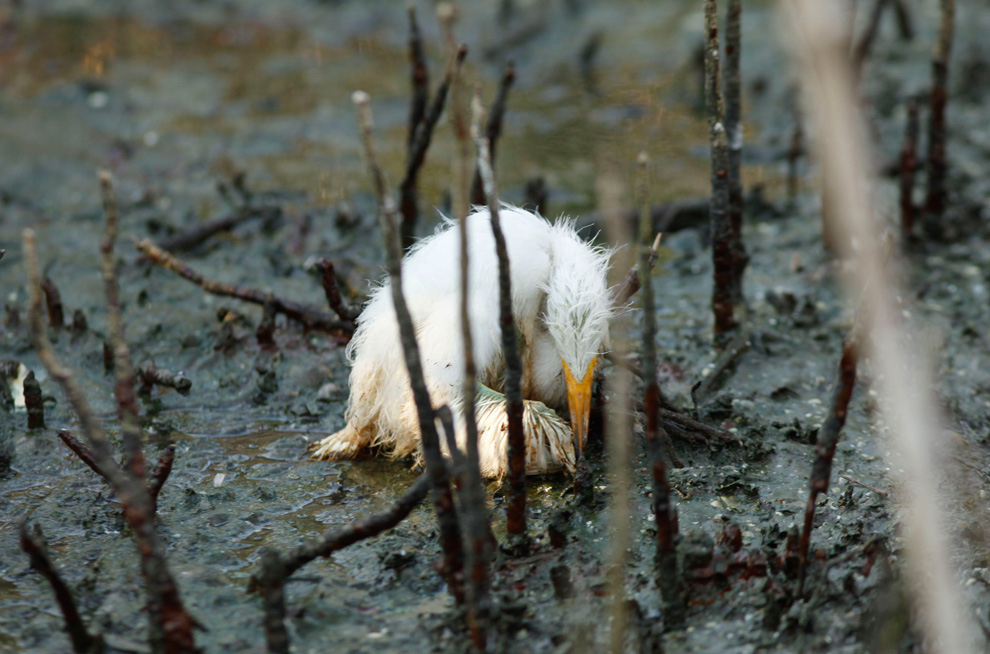 For those into the math, it is shown below, along with the links to the source articles are above.